ABOUT AKAL GROUP OF INSTITUTIONS
Akal Group of Institutions, Mastuana Sahib, Sangrur, Punjab is working to propagate the ideals of the religious and social reformer, a great visionary Sant Attar Singh. He was a pioneer of education in Punjab whose mission was to provide education free from social and religious barriers. His advocacy of education for the girl-child, and blending education with spirituality show his sense of foresightedness. Even a century back, he knew that mere scientific education would only lead to destruction, and education of the girl-child would result in the whole family getting educated.
Towards that end, he first set up a school for girls in 1906. He did that even before establishing a school for boys and Akal College of Education Gursagar Mastuana Sahib (Sangrur), Punjab. Eventually he established a chain of schools and colleges. He also took part in several educational conferences motivating others to establish many more schools and colleges.
Such was his goodwill and popularity as a messenger of Universal Brotherhood and Oneness that he was personally invited by Pandit Madan Mohan Malviya to lay the foundation stone of the Banaras Hindu University on 24 December 1914.
Akal Group of Institutions, Mastuana Sahib (Sangrur) Punjab is a multi-disciplinary institution. Making a humble beginning in 1920 Akal Group of Institutions has travelled many miles to establish as a centre of excellence for quality education in the Malwa region of Punjab. Akal Group of Institutions provides a dynamic learning environment to students. The enviable growth of the institution has been made possible by the contribution of the faculty in the fostering and academically exhilarating, creative and harmonizing environment. While, many private universities and institutes have entered the field of education with their sole motive of making profit; Akal Group of Institutions is fully dedicated to enlighten the surrounding areas with education. Now-a-days Akal Degree College, Akal College of Education, Akal College of Physical Education, Akal College of Pharmacy and Technical Education, Gurmat College, Akal Senior Secondary School,Bahadarpur and Sant Attar Singh Akal Academy are part of Akal Group of Institutions.
It is spread across an area of 200 acres. It provides an ideal ambience for pursuing professional courses. The campus is well equipped with modern infrastructure, playgrounds, indoor gymnasium.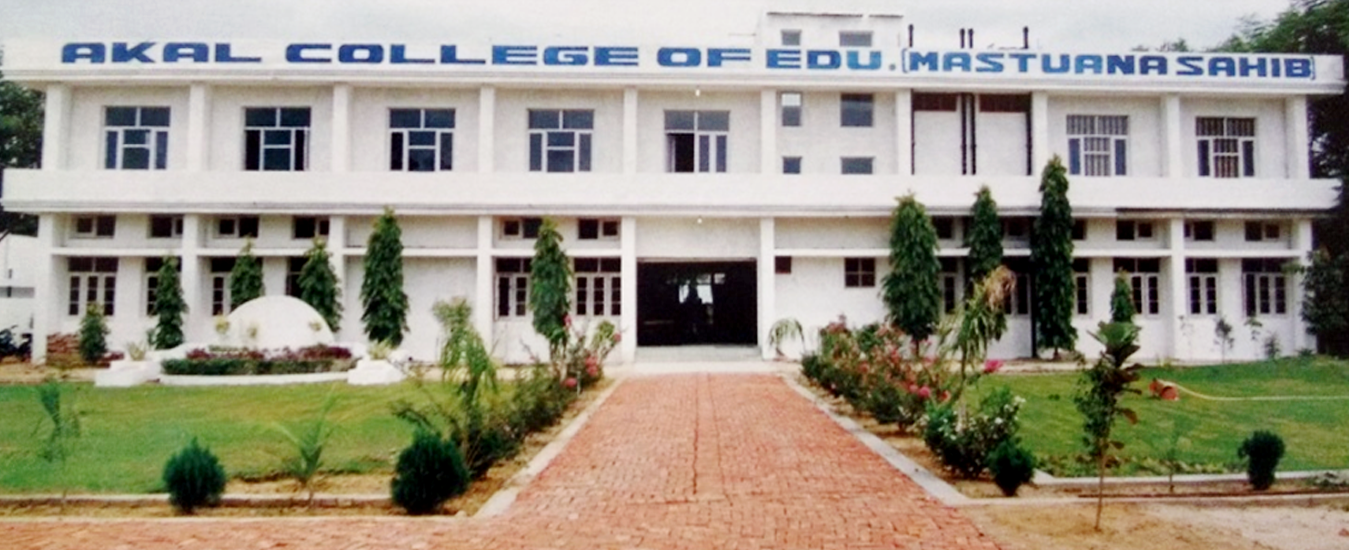 ABOUT THE COLLEGE
Over the last fourteen years,
Akal College of Education, Gursagar Mastuana Sahib
, one of the top colleges of Punjab has been in the forefront imparting high quality teacher education offering UG & PG courses. Akal College of Education Mastuana Sahib started as an Education college initially in 2005 offered only B.Ed course but today college offers one master degree of M.Ed. also. Akal College of Education is affiliated to Punjabi University Patiala and approved by NCTE (National Council for Teacher Education), Jaipur.
It has grown into the best and most sought after institution with excellent teaching-learning environment to achieve excellence in imparting teacher education. Progress of an Institute depends mainly on performance of the students in academics, sports and cultural activities along with maintaining high values and ethics. Taking into account our academic achievements, infrastructure, co-curricular, extra-curricular activities and other all-round development NAAC an autonomous body of UGC accredited us with 'B' grade with 2.82 points.
Teacher effectiveness and efficiency is the goal of our college. Along with curriculum, the training in teaching methodology, skills and educational administration through intensive practice of teaching and micro and macro teaching is provided in schools during teaching practice. The members of the teaching as well as non teaching staff are highly dedicated with total commitment towards achievement of mission and goals of Sant Attar Singh who wanted to enlighten minds of people with knowledge.
Infrastructure, dedicated and qualified staff, highly conducive environment for teaching-learning process and a lush green campus are the hallmarks of this professionally managed institution.